Outsourcing is the intelligent method businesses follow to handle Herculean tasks. And one such laborious job is payroll management. Though the company's HR professionals or in-house team are skilled in managing payroll and helpful software is also there, many companies still prefer outsourcing payroll management experts. And, if the business doesn't have these in-house skilled teams, they definitely hire payroll outsourcing.
Payroll outsourcing comes with pros and cons. And we have discussed the advantages and disadvantages of payroll outsourcing services precisely here.
What is payroll outsourcing?
Payroll outsourcing is hiring an external service or a professional to deal with the entire payroll process of the business.
The outsourcing company or individual is skilled in and takes charge of the salary and increment of the existing and retiring employees, computes taxation, tracks the change in statutory laws & regulations, implements them, and prepares statutory and MIS reports. In short, it does all to keep businesses away from legal troubles & penalties and work for the smooth progress of it.
The job of payroll outsourcing varies. Some provide a simple service; others a complete package, which includes coordinating with the HMRC and maintaining total compliance, so the business never faces payroll-related issues.
It is type of manpower outsourcing that can save you time and money. To use it in a proper manner you should know advantages and disadvantages of payroll outsourcing services.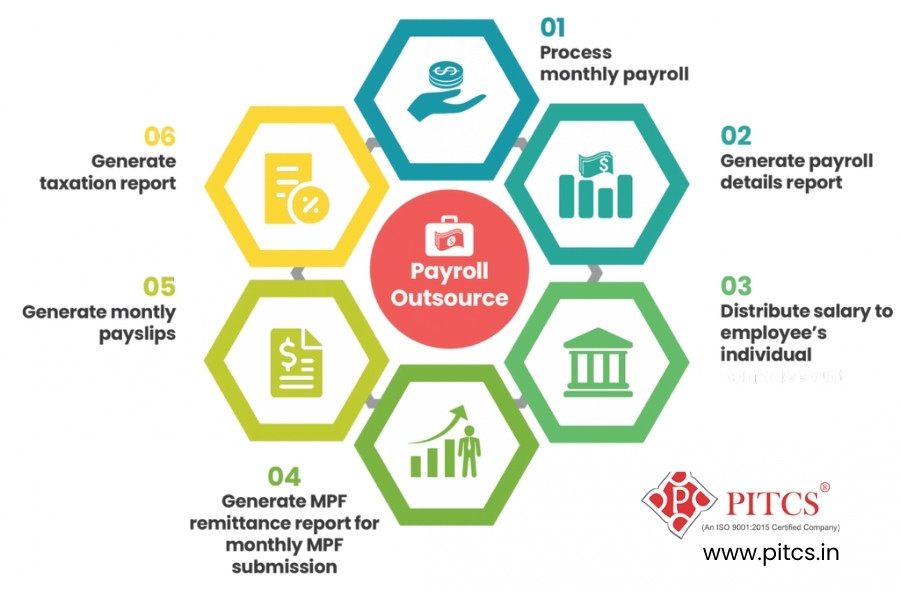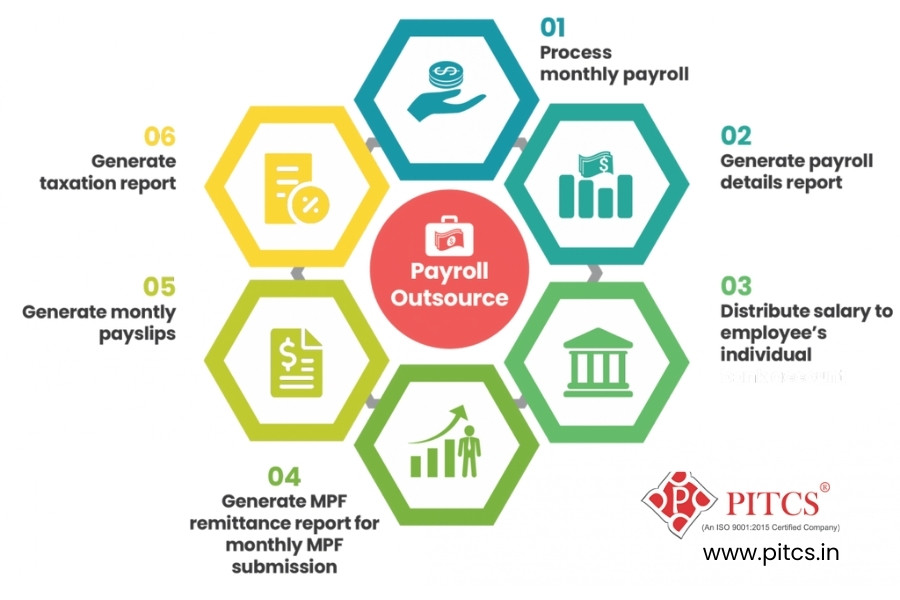 Who needs a payroll outsourcing service?
Every sector, type, and scale of business: can draw benefits from a payroll outsourcing service. However, payroll outsourcing is wanted when the company:
Have no in-house finance and administration team.
Cautious about compliance with the latest rules and regulations.
Need its administration and finance team to concentrate on strategic assignments apart from payroll processing.
Held international operations but does not have an in-house payroll management expert in every country.
Need to continue payroll management and lacks a well-designed data recovery system.
Plans to transform payroll expense into a profitable variable cost proportional to the size of the workforce.
To whom does the business outsource payroll processing?
Typically, a business outsources payroll to:
An accountant or auditor.
A company providing payroll outsourcing services.
Advantages of Payroll Outsourcing Services with PITCS
To know how payroll outsourcing can work in favor of the business: one must know its pros and cons.
Here are the 6 advantages of the payroll outsourcing service:
1. Saves time
Payroll outsourcing services save the in-house HR team from the complex, long-drawn task of payroll processing. As a result, their time and energy save, which they can invest in developing the growth of the business.
It also saves the time of the trainer of the in-house staff, which he can shift to focusing on other training.
2. Save cost
Opting for a payroll outsourcing service saves a lot of business expenses. It reduces the cost of training the in-house employee on payroll and eliminates the need for an expensive payroll system.
Since the workload becomes manageable, the organization saves costs by forming a small but efficient HR team.
3. Error-free salary management
Errors are inescapable in payroll management due to the nature of the work it needs.
Assume the company has 40 employees, each having a distinctive set of working hours, remunerations per hour, and work benefits. Calculating the salaries and PF and preparing the pay reports are time-taking and error-prone, which leads to discrepancies.
Payroll outsourcing services provide zero-error salary management.
4. Filing accurate tax return
A significant part of payroll management is computing and filing taxes. Taxation filing is a burdensome task. Where the filing process can take hours, computation with errors can lead to a severe outcome with penalties.
But, a payroll outsourcing service eases out the entire process. The skilled team files error-free taxes on behalf of the client company within the time allocated by the government, complying with the current regulations.
5. Rules and Regulation compliance
A company constantly needs to track the change in statutory laws & regulations to implement them and keep away business from legal troubles & penalties. Otherwise, it costs the company high penalties and affects its reputation.
Payroll outsourcing services well-versed with the governmental rules and regulations quickly catch up to the changes in ordinances, never letting the company face troubles.
6. Enhanced security
Payroll data requires extreme security since it contains every detail of the employees and the business investment. And no big company stores them on the office network, as payroll fraud can also be committed internally; when an employee turns dishonest to the company.
In the midst of data theft and other security issues, the services of payroll outsourcing can put a full stop to all this unjust favoritism.
Disadvantages of Payroll Outsourcing Services
Besides the several advantages, a payroll outsourcing service also has a few drawbacks, which are controllable, if well aware of them. Here are the 4 disadvantages of the payroll outsourcing service.
1. Loss of control over data
A payroll outsourcing service has access to the in-and-out of the employee register of the client—their details, salary, incentives, and other benefits required to compute and generate the salary. It limits the company's control over the accessibility and processing of employee information. However, this drawback is easy to handle; if the company coordinates with the payroll outsourcing service and changes the employee data.
2. Threat to confidentiality
As mentioned, the company must ensure that employee information stays protected. Hiring a third-party team, like an outsourcing company, may seem to lurk to the company's confidentiality. But it is maintainable, and data can stay protected.
To establish confidentiality: opt for policies and agreements stating the data protection and penalties for breach of contract.
3. Difficult and delayed co-ordination
Communication with the payroll outsourcing service generally happens virtually, mainly through emails. Companies need to hold meetings and plan the action with their payroll outsourcing providers, which is time-consuming. As a result, a delay and difficulty in coordination can happen.
However, the delay in response is controllable with scheduled meetings. Both companies can discuss and plan the method to achieve the desired result on time.
4. Inclusion of extra services
Payroll outsourcing services come with packages containing various types of services. The organization can choose packages suitable to the requirements. Not all services are needed for the time being by the company. As a result, the company may initially seem to opt for the package having some add-on services.
Payroll outsourcing service develop packages keeping in mind the long-term requirement. So, the services that seem unwanted will be required later. Moreover, the company can take details of every offered service and know if it will benefit the business before opting the one.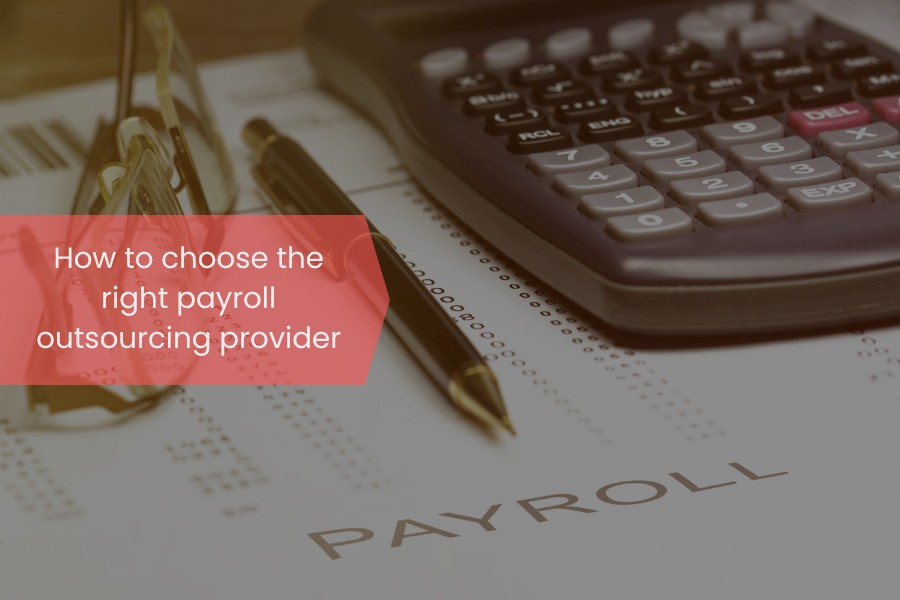 Choosing the Right Payroll Outsourcing Provider: Key Factors to Consider
Outsourcing payroll is a crucial decision that can have significant impacts on a business. To ensure a successful partnership, it is important to carefully choose the right payroll outsourcing provider. Here are the key factors to consider:
1. Internal control
The right payroll outsourcing provider should have a well-organized and structured business with a commitment to quality performance. This helps to minimize data loss, payment delays, fines, and lawsuits.
2. Best-in-class technology
A good payroll outsourcing provider should use the best-in-class technology that offers increased functionality to help businesses scale. The technology should also provide data backup and disaster recovery to mitigate potential risks.
3. Compliance
Payroll providers should stay up-to-date with changing regulations to ensure compliance with tax and labor laws regardless of the company's location. This should include a tailored experience that meets the unique needs of each company.
4. Pricing
While pricing is an important factor, it should align with the company's objectives and performance expectations. This will ensure that the partnership is cost-effective in the long run.
5. Customer Service
Good customer service is crucial to successful payroll outsourcing. It is essential to consider other clients' reviews and ask for references to ensure the provider has a good reputation for customer service.
In summary, outsourcing payroll can be a complex process, and choosing the right provider is critical. Globalization Partner's AI-driven, compliant global Employer of Record (EOR) platform, powered by worldwide HR experts, offers an easy-to-use, automated payroll process. This allows businesses to focus on growth while remaining compliant with labor laws and regulations, saving time and money.
Why do businesses outsource payroll?
Many reasons prove how advantageous payroll outsourcing is to companies. However, the main reason is to have a specialized proficient team that eases out the cumbersome payroll process and carries out error-free payroll services.
Final Word: Advantages and Disadvantages of Payroll Outsourcing Services
Merits and demerits are two sides of a coin that are interrelated. Just like everything, the matter is the same with payroll outsourcing services. But, the point is its advantages are highly beneficial, and its disadvantages are mendable.
Today many businesses opt for payroll outsourcing so that they grow smoothly. And there are many agencies that provide the services, PITCS being the best.
So, if you plan to opt for payroll outsourcing service hope this article gives you a clear idea.