One of the three techno cities that forms the 'Silicone triangle of India' (Pune, Hyderabad, and Bengaluru)- Pune, formerly knowns as Poona, has the perfect balance of culture and metropolitan. Today it being one of the technologically and economically advanced cities, organizations have been visioning it as the base of new ideas and business. Hence, surpassing the metros, Pune comes up with opportunities in various sectors.
To utilize this ever-growing market and make the opportunity more accessible to job-seekers, staffing companies-startup or renowned have been setting up branches there. Here are the best staffing companies in Pune serving various solutions like talent retention, staffing, and payroll services.
Best Staffing Companies in Pune
Here are the best staffing companies in Pune:
1. PITCS (Poonam IT Consulting Services)
Estd.: 2006
Address: G232, Akhsay Complex 187, Balkrishna Sakharam Dhole Patil Rd, Sangamvadi, Pune, Maharashtra 411001
Website: https://www.pitcs.in
Headquartered in Bangalore, Poonam IT Consulting Services, popularly known as PITCS, is a leading name when talking about recruitment agencies.
The company provides staffing services, recruitment solutions, and payroll services through a team of experienced and skilled professionals.
Its unique and people-focus approach yielded the growth of the client companies and also the applicants it recruited. It offers full-range staffing and payroll solutions imbibed with a smart investment in intelligent technology and talented potential people to companies and job-seekers.
In its 17 years of existence, PITCS served top companies required manpower. Helpful management and a team of efficient executives, PITCS is surely the first choice for companies hiring talents.
Placement: India and abroad.
Sectors: Executive-level recruitment in I.T. Software, Marketing, etc.
Working Hours: Monday-Saturday: 9 am-6 pm.
2. Equations Placement
Estd.: 2003
Address: P -1 Metropole Building Queens Garden Road, next to Inox Theater, Pune, 411001
Website: http://equationsplacements.com
Equations Placement is a top-rated recruitment agency, which provides full-length Human Resource development services to companies and firms across the nation. With the ideology "Candidates And Employees 1st…Clients 2nd", this placement agency has been providing one of the best staffing solutions that leads to the growth of the candidate and the company together.
It has a team of experienced industry professionals who successfully handles recruitment procedures and justifying the company name, establishing equations with the candidates and the client organization. Equations Placement primarily works in the onshore BPO recruitment.
Placements: Mumbai, Pune and Bangalore.
Sectors: BPO & Call Center, Voice Process, I.T., Sales.
Working Hours: Monday-Saturday: 24 hours.
3. Skyscraper Consulting
Estd.: 2009
Address: Phase 2, Liberty House, Wing – C, N Main Rd, off No C-12, Ground Floor, behind Wellness Forever, Entry, Liberty Phase 2, Ragvilas Society, Koregaon Park, Pune, Maharashtra 411001
Website: https://www.skyscraperconsulting.com/
Skyscraper Consulting is a leading name in the recruitment sector of Pune, with over thirteen years of experience. The company has earned a reputation for providing a one-stop recruitment solution to startups, mid-sized or corporates, fulfilling the needs of their client and job-seekers.
With a supportive, prompt, and encouraging professional, the organization provides morale boosting guidance and assistance throughout the interview session with the prospect of delivering the highest standard of Human Resource solutions. Skyscraper Consulting does not charge placement fees from job-seekers for providing opportunities.
Placement: In and across Pune.
Sectors: BPO, Finance, Accounts, HR training.
Working Hours: Monday-Saturday: 10 am-8 pm.
4. Matrix Recruitment Consulting
Estd.: 2006
Address: 16/26, Ground Floor, Maharashtra Rajya Sahakari Sangh, Finance Rd, Agarkar Nagar, Pune, Maharashtra 411001
Website: http://www.matrixrecruitments.com
Matrix Recruitment Consulting LLP, one of the best-rated recruitment firms, offers 'end-to-end' staff resourcing services to companies and firms across the globe. It conducts placement solutions in sectors from startups and SMEs to MNCs. Matrix has a team of experienced recruiters whose vast and in-depth knowledge provides one of the best HR development solutions-customized, technologically viable, and economical. They aim at assured professionalization of high-standard Human Resource development. Matrix offers a vast range of services-contract and permanent staffing, executive search, payroll management, and RPO.
Placement: Worldwide.
Sectors: ITES, Pharma, Banking, Logistics, Insurance, Telecom, Oil and Gas, and Production.
Working Hours: Monday-Saturday-10 am-8 pm.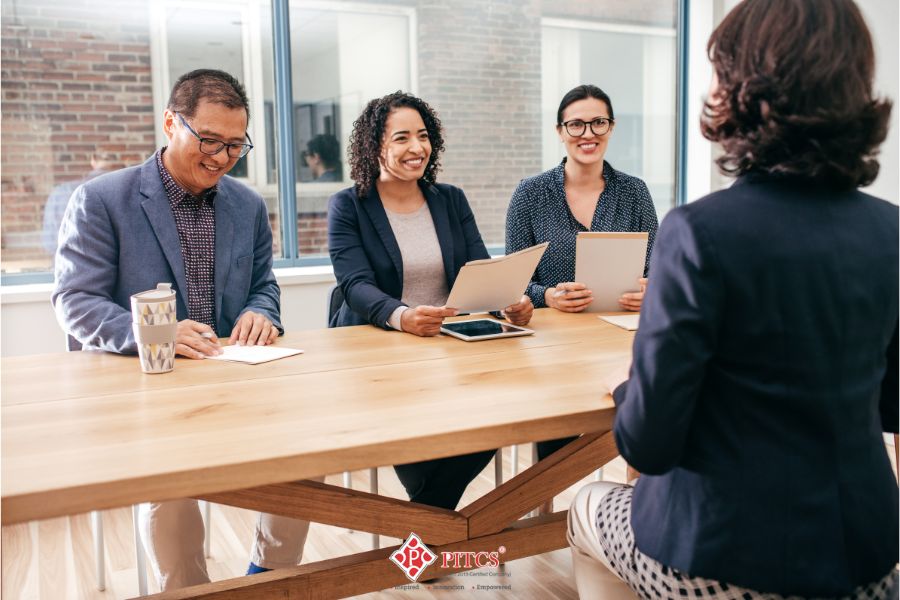 5. Right Move Staffing Solution
Estd.: 2008
Address: Ashoka Mall, G-26, Bund Garden Rd, opp. Sun-n-Sand, Sangamvadi, Pune, Maharashtra 411001
Website: http://rightmoveconsultants.com
Right Move is one of the leading recruitment and training-service providers offering placement services all over India. With its vast knowledge and experience: the agency guarantees to recruit potential employees quickly and efficiently for the most urgent and complex staffing needs.
Besides, its expertise in establishing and strengthening HR departments for client companies. It designs, develops, and implements training solutions that benefit the company to achieve its objectives and retain the best talent, thereby earning a reputation; for the agency itself.
Placement: All over India.
Sectors: All industries.
Working Hours: Monday-Saturday: 9 am-6 pm.
6. Talhive| Startup Technology Recruitment
Estd.: 2016
Website: https://www.talhive.com
Urged with a desire to streamline the hiring process, Talhive is one of the recruitment agencies that simplify the staffing process through a systematic structure that yields productive outcomes in less time. The experienced, enthusiastic, and creative mind of the Talstars, driven by empathy, discover innovative ideas and build a profound and meaningful relationship between the employees and the employers.
Talhive provides holistic staffing solutions that support the employees' lifecycle; and, at the same time, fulfilling the requirements of every scale and quality of the organization- whether it is a startup, top brand, or remote hiring agency.
Placement: Global.
Sectors: Executive-level recruitment in Sales, Finance, Marketing, Engineering, Designing.
Working Hours: Monday-Saturday-9.30am-6.30 pm.
7. Surabhi Placement Services
Estd.: 2004
Address: 1st Floor, Grow Work Next To Bhojwani Sweets Old Mumbai – Pune Highway, opp. CME, Dapodi, Pimpri-Chinchwad, Maharashtra 411012
Website: https://www.surabhiplacement.com
With an experience of 18 years: Surabhi Placement Services, through comprehensible and strategic methods, offers solutions and management of the most valued asset of any organization—human resources, whose contribution is the sole source of the company's growth.
Its recruiting experts propose professional and affordable staffing solutions and aim at recruiting potential applicants, cultivating their capacities, and utilizing their services in accordance with the vacant position and requirements of the client organization. It conducts training as well as a direct recruitment process.
Placement: In India and abroad (UK, USA, APAC, Europe).
Sectors: Petrochemical, Refinery, Fertilizer, Telecom, Finance, Advertising, I.T., Finance, Sales, Pharmaceuticals.
Working Hours: Monday-Saturday: 9.30 am-6 pm.
8. Vibrant Minds Technologies Pvt. Ltd.
Estd.: 2017
Address: VibrantMinds Technologies Pvt Ltd, 2nd Floor, Viva Academy Building Near St. Mary Church & Vardhman Petrol Pump, Mumbai-Bangalore Highway, Warje Pune Landmark:, near Mai Mangeshkar Hospital, Maharashtra 411052
Website: https://vibrantmindstech.com
Vibrant Minds Technologies is a fresher recruitment agency that acts as a bridge between college candidates and companies. The recruitment agency helps college students to step into their dream job through campus placements. It conducts an Online Assessment program in colleges to test the candidate's skills before employing them and give real-time working experiences in industries so the candidates can improve their skills. It conducts various hiring and placement programs like zero-cost hiring assistance, job fairs, talent test, and career guidance program.
Placement: All over Pune.
Sectors:  I.T. and non-I.T. MNCs.
Working Hours: Monday-Saturday: 8.30 am—8 pm.
9. Shree Balaji Manpower Consultants
Estd.: 2004
Address: Jai Ganesh Vishwa Complex, Office No.366, 2nd Floor, Airport Road, Chowk, Vishrantwadi, Pune, Maharashtra 411015
Website: www.sbmc.in
SBMC is a trustworthy name in delivering potential applicants in the best position to companies and firms across India. It has a proven record of recruiting the best human resource for the designated vacancy at the right time. The team of highly competent, skilled, and experienced recruiters meet the needs of their clients and conduct a streamlined recruitment process.
The agency forms a bridge between the company and the candidate. After all, employees are the biggest asset of an organization. SBMC works with staffing management level professionals and never charges placement fees from job seekers.
Placement: PAN India.
Sectors: Automobile, Logistic, Shipping, FMCG, Media, I.T., Real estate, etc.
10. Alpine Placement Consultancy
Estd.: 2014
Address: Anand Nagar, Sinhgad Road, Pune – 411051, Maharashtra India.
Website: www.alpineconsultant.com
With the vision to meet the ever-increasing demand for human resources and source the best talent: Alpine Placement Agency came into the recruiting business a decade ago. Since then it has received acclamation worldwide.
The staffing company with well-defined introspection and self-evaluation procedure works in identifying qualitative and quantitative requirements of the client company; and in improving, enhancing, and reorientation. At the same time, it assures the candidate a designation in a company that promises the employees' growth. The company offers training and development programs besides placement services.
Placement: Across the world.
Sectors: BPO, Banking, Pharmaceuticals, Insurance.
Working Hours: Monday-Friday: 9.30 am-6.30 pm.
Importance of Staffing companies in Pune
Pune, one of the technologically advanced cities of India has immense opportunities in every sector and at the same time filled with staffing companies. If you Google it, you will get at least 50+ recruitment agencies among which these 10 top the Google lists, too.
India is considered the Global Knowledge hub in the world with cutting edge education system. Renowned companies hiring their employees from all over the country. As Pune is one of the major cities favorite to top-notch companies, recruitment is a never ending process here. And PITCS is one of the trusted first choice.
Related:
How to start recruitment agency in India.