Small scale businesses have always been an integral part of the Indian economy. The contribution of small business in Indian economy has been phenomenal and their presence has weaved the Indian economy. They have increased employment, catered to the economic development of the nation, have increased urban and rural growth, etc.
The role of small business in India is extremely important but yet not paid much attention to. MSME in India account for 8% of the country's GDP, nearly 45 percent of manufacturing production, and roughly 40% of the country's exports.
Both small and medium scale businesses are essential for eradicating poverty and the development of the nation. From manufacturing units to service-based companies, SSI has increased production and opened up new opportunities for labor over the past many years. They have been advancing welfare as well as creating employment as well.
SSI encourages people to take entrepreneurship seriously as it requires limited capital. Small scale businesses also reduce migration indirectly. SSI retains the skill and talent of our rural craftsmen, artisans, and other people.
This helps in reducing large-scale migration, which in turn can lead to tremendous pressure on water, resources, land, and more.
Small Scale Businesses knows how to change and has great adaptability. It promotes personal contact with workers and consumers, helps in reducing industrial disputes, and is a great platform for talent.
Moreover, they contribute to the industrial exports of the country. From garments and textile to handmade products and handicrafts, India has a huge export market that relies on small-scale industries.
Small scale businesses increase overall production of the nation and meet the surging demand in the market. Trade houses also help SSIs to export their products to foreign lands. With fresh opportunities and wide range of products/services, SSIs
Small Scale Industries (role of small businesses in Indian Economy ppt) also earns valuable foreign exchange for the same reason.
In this blog, we will share with you the importance of small-scale industries and how they are contributing to the economy. Research says that 65-75% of innovation in the country came from small businesses.
Let us take a look at the functions of a small business.
Industrial units: Most of the industrial units are created because of small businesses. As per research, 40% of industrial units across the nation are exist ing because of small-scale industries.
Labor oriented: Small scale businesses also generate a lot of labor and this is why they create more employment opportunities. People living in rural and semi-urban areas get opportunities because of small businesses. With a large labor force in India, the Indian government encourages small industries to employ more people.
Human resource: As I mentioned earlier, small businesses generate maximum employment opportunities in the Indian economy. Utilization of local resources: To meet the communal needs, small businesses have grown in a huge space in semi-urban and rural areas.Small businesses are generally community-based and thus, they serve in that area, thus utilizing local resources like skill and labor, raw materials, etc.
Promotes growth and development: Small businesses contribute heftily to the development of local areas.
Tax revenues: With more businesses, more profits get generated, and thus government can collect more taxes. These taxes are used to enhance healthcare, education, etc.
SSI maintains regional balance and even decreases the massive dependence on agriculture for creating employment. Small Businesses provide the numerous benefits in rural areas. Youth in rural areas also get access to decent salaries due to SSIs.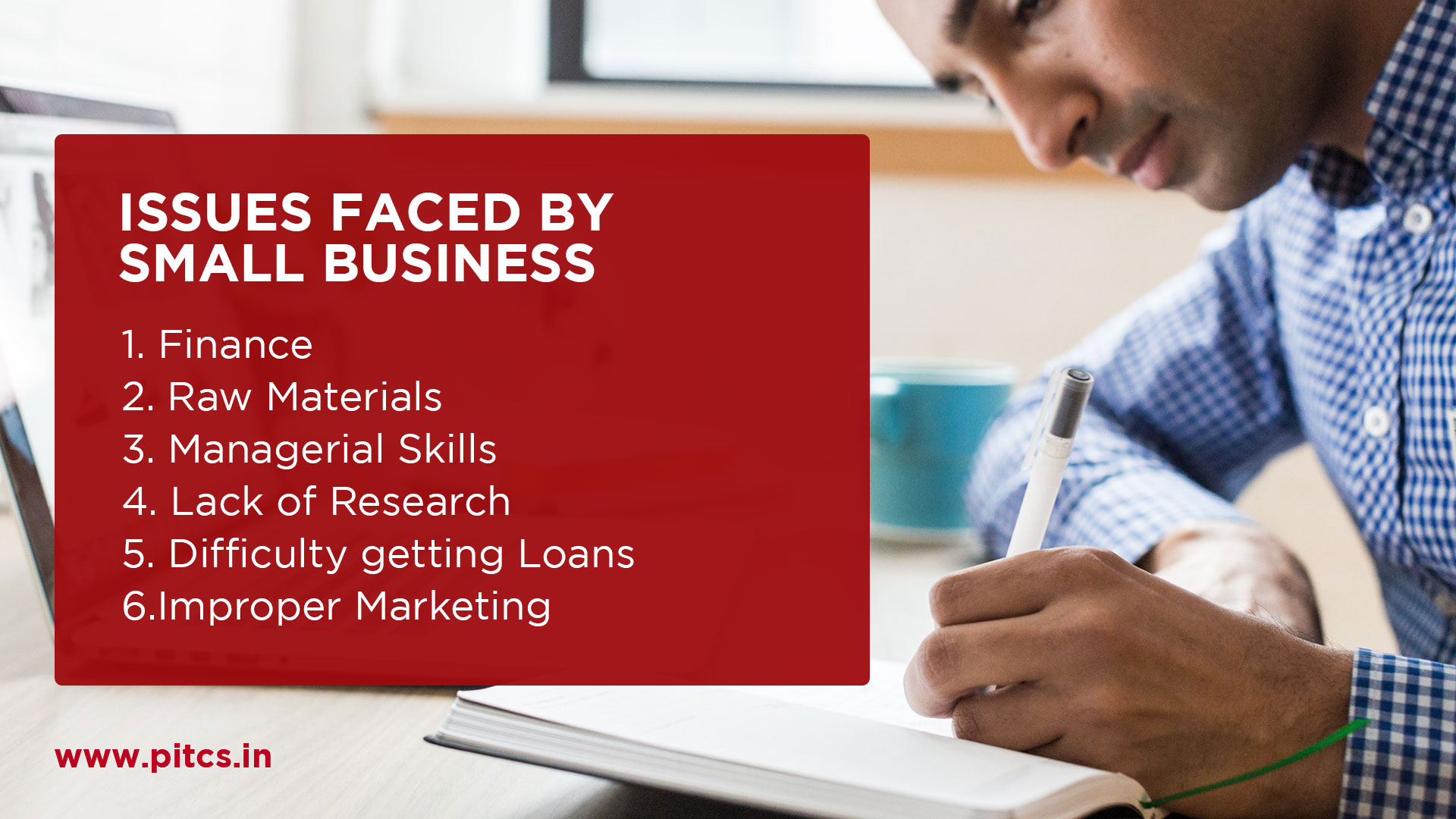 Problems faced by small businesses
Just like they have various advantages, small businesses also face a lot of difficulties. Here are some of the common problems small business might face.
Finance: One of the major difficulties that they face is finance. Since insufficient money is pumped into small businesses, it leads to major hindrances in their way.
Small businesses generally don't have credit worthiness and these financial problems make the scenario even more difficult for them.
Raw material: Without proper access to raw materials, small businesses cannot function. Access to raw materials gets even more restricted because small businesses do not have enough capital to purchase them in big lots. Access to the storage facility is also an issue.
Managerial skills: Since they cannot employ a huge number of people, most of the work is done by the few employees they have. These people might lack basic managerial skills and education. In most cases, a single person has to manage most of the operations which makes it even more difficult.
Lack of research: Small scale businesses have limited access at their disposal and this is why they cannot spend a huge amount on science and technology. Due to the lack of cutting-edge technology, they are left behind. They often have to use old techniques and obsolete machines, which makes them incompetent in the market.
Difficulty in getting loans: Small scale businesses also face difficulty in getting loans. They also don't have the capacity to bear losses for a long time. Entrepreneurs have realized this even more during the pandemic. Many small-scale factories have closed down during this time.

High cost of production, wastage of by-products, and competition with large-scale producers are some of the other disadvantages that small-scale businesses face. Nevertheless, their nature of demand and direct relation between producers and consumers are some of the positives.

Marketing: No matter how good your product or services are, you need to invest in advertising and marketing to thrive in the market.This is where small businesses lag as they do not have a good marketing channel and enough capital to promote the same.

Direct marketing becomes difficult for these companies as they lack the basic infrastructure for the same. Thus, they get exploited by middlemen.
Conclusion
Small businesses play an integral part in the economy of the country and thus, their needs should be adhered to. In the meantime, they can use online tools to gain more attention from people. Digital tools have created a bridge and these companies should make the most of it.
So role of smal business in rural India have both advantages and disadvantages and they play an integral part in our society. They also play a great role in supporting the local community. This trend surely helps eradicating unemployment in any economy.
While the advantages of small-scale industries are aplenty, the difficulties also need to be addressed. If the government takes care of it, then more people will be motivated to form SSIs.