There are various kinds of business models present with their own individual sets of features, pros, and cons. In this blog, we are going to talk about C2B e-commerce model and the advantages and disadvantages of C2B E-Commerce.
This is the exact opposite of B2C. C2B or consumer to business is a model where the consumer provides goods/services to a company.
C2B business model is a little different from the classic models, such as B2C or B2B.
Let us explain C2B ecommerce model to you in detail. It challenges the traditional ones and looks at business the other way round. In the model, organizations do not rely on reaching consumers to sell their products but reach out to them for making purchases.
The model is unique in its own ways. It has undoubtedly bolstered in recent years.
The chain for the consumer to business e commerce model is different.
Those who would have traditionally been end-users are now creating products and services and are catering to business houses. This is slowly becoming very common.
Thanks to advancements in technology and usage of the internet, consumers are now the powerful team in the scenario.
They now understand the power they have and are looking for ways to leverage the same. If you are aware, then we are sure that you have heard about Upwork.
It is a C2B model (c2b e commerce ppt) one of a kind, where consumers can advertise their services (like content writing, SEO, webpage designing, etc.) and companies get in touch with them as per requirements.
They can then negotiate on the bid proposals and carry on.
How Does C2B Marketing Work?
This is slightly different from the business to consumer b2c or B2C model. There are three groups, namely the customer, the business, and the intermediary.
Customers:
The individuals who have something to offer, like products and services. Consumers are now a network, thriving with prospects. Whether you are a social media star with thousands of followers or someone with good skills, you can now monetize the same by advertising it the right way.
Tie up with brands and post reviews, sell your clicks as stock photos for businesses and make the most of the online platforms. Time is evolving and so is the business scenario.
The Business:
Against its normal way, in this case, an organization is the consumer, who is looking to purchase items or services from individuals.
They might need product or brand reviews from social media influencers or wat people who could recommend the right employees through referral hiring sites.
The C2B Intermediary:
In C2B ecommerce, the medium is used by companies and individuals. They act as the bridge between the two.
It can even link a buyer with multiple sellers or can be used by individuals and businesses. For instance, a modern site, an Amazon or Twitter account can work wonders!
Common C2B Ecommerce Examples
Customer Reviews
One of the first things that you need to understand in this case is that negative feedback doesn't harm the business. In fact, they can help you enhance your business.
If a customer leaves a review on Google or Yelp, you now know where you are going wrong. It gives you room to improve. You should always respond by apologizing or thanking the person for the piece of information.
Assure them that you will look into the matter. This will, of course, help you fetch goodwill.
So if you are someone with good writing abilities, leverage the same so that companies can establish their online reputation. You can get vouchers, coupons, entries into a competition, or cash as compensation.
Dig deep into sentiment analysis to know more about this. This also helps in boosting brand awareness.
Online buzz
Another relationship that defines the C2B model is to have consumers help create the buzz!
You can get exposure to a new audience through this model. People are growing their influence through words of mouth. You can hire press release writing services through this model so that your reach gets enhanced.
Companies are taking help from individuals to enhance their reach in an organic way. If a company already has a loyal customer base, then it can leverage the same by asking them to tag/mention the brand on niche websites, social media platforms, forums, etc.
Individuals can get tokens, coupons, and free materials from the organizations as rewards for their effort.
Sponsored posts and endorsements by Influencers is one of the most common forms of C2B transactions.
Focus and test groups
Another form of the C2B model is insight. When consumers are the target market, their opinion on a particular product or service matters. If they decide not to buy one item, you have to find out why!
For organizations, this market research is required so that they can deliver the best to the market at large. Before a company launches a new product, adequate market research is required so that there are no hiccups at the last minute. It can literally change the chances of success.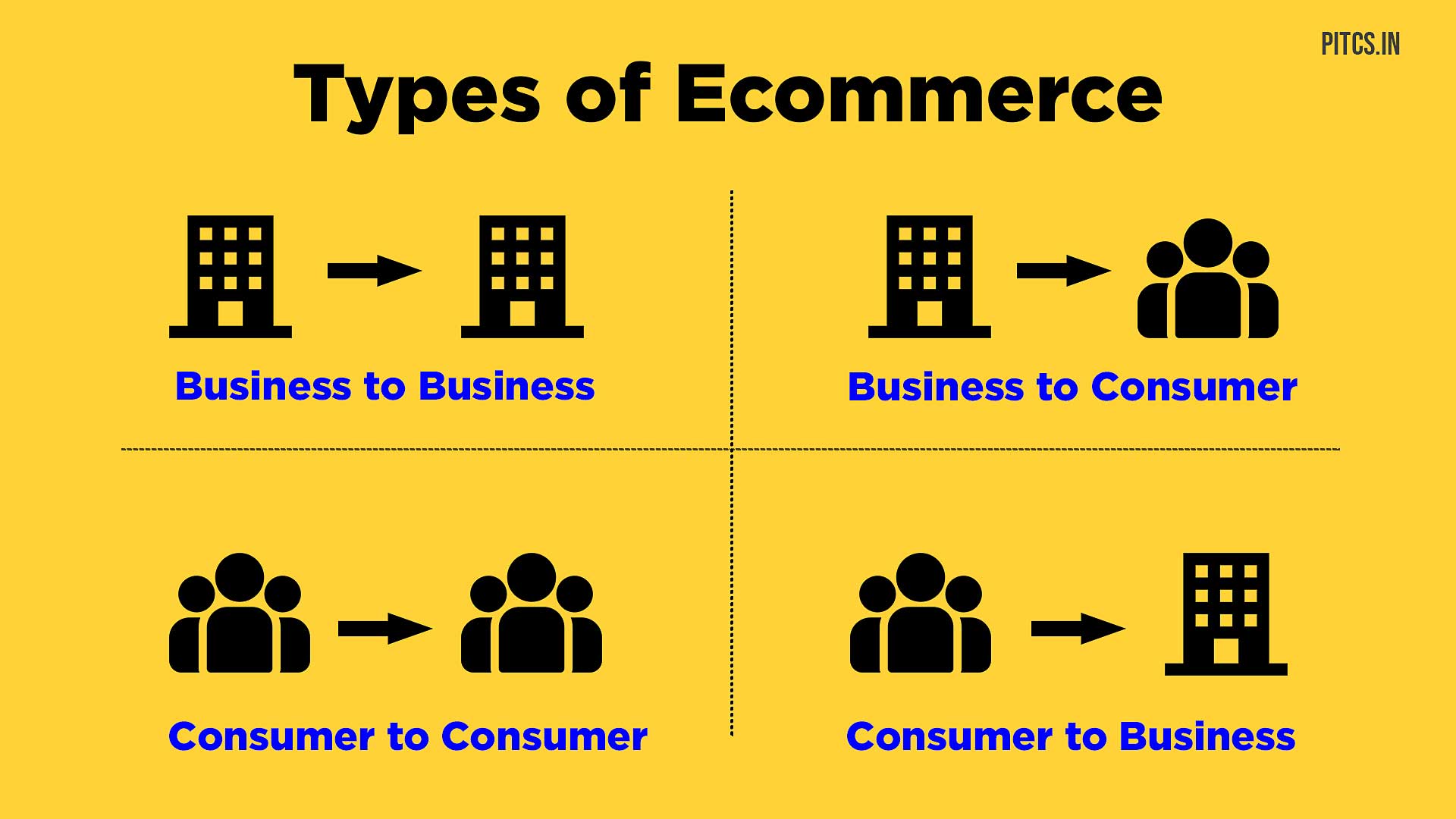 Now let's talk about the Advantages and Disadvantages of C2B e-commerce.
C2B E Commerce advantages and disadvantages: It creates employment opportunities and is a great platform for individuals who want to monetize their talent/ work. This business model has changed how companies work and has brought innovation.
One of the major advantages of c2b e-commerce is that it has opened a new source of revenue for businesses.
Moreover, due to the advent of the internet, this unique model allows customers to directly reach out to business houses. This was next to impossible even a few years ago.
This is mostly possible with the advancement of technology and the average people having access to laptops or smartphones.
The model is mutually beneficial. This can be an advantage for the consumer that can offer value to organizations. This is the reason why it is becoming popular by the day.
Organizations can get the best value because of the perfect competition that prevails. They can choose from options based on price, quality delivery time, supply, and more.
This consumer to business ecommerce model works both ways.
Disadvantages of C2B models
There are issues related to fulfillment. There could be issues related to responsiveness, delay in delivery, etc. This scattered industry doesn't have a fixed price as well. This way, business houses are at a disadvantage. Loss of privacy or information is another reason why this model is not reliable.
Breach of information can eventually lead to a lot of confusion. Many people use this model maliciously, which is again a major disadvantage.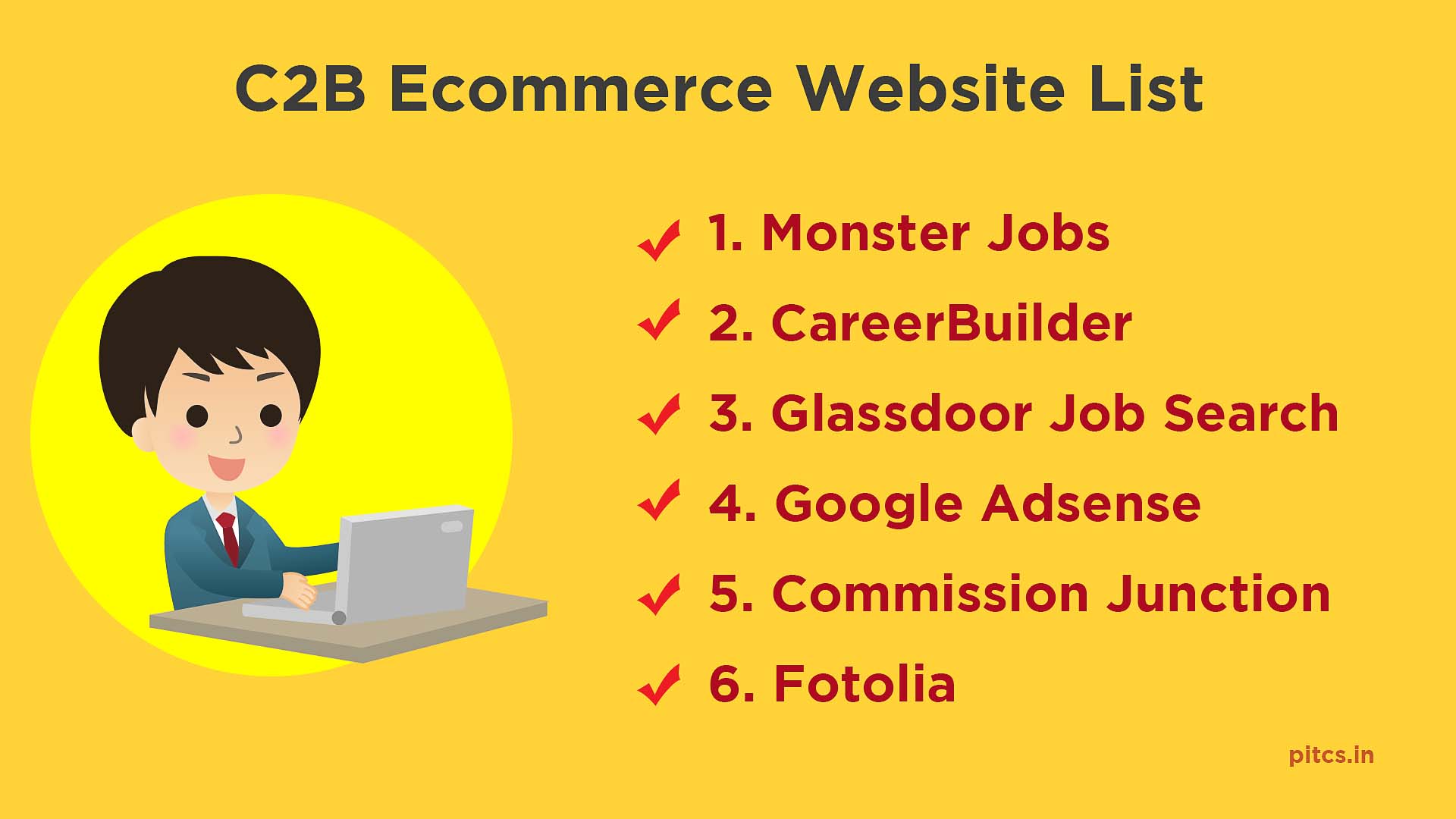 C2B E-commerce websites list (C2B Examples in India)
Monster Jobs
CareerBuilder
Glassdoor Job Search
Google Adsense
Commission Junction
Fotolia
Conclusion
To wrap it up, consumer-to-business e-commerce is a thriving model with plenty of prospects. It is undoubtedly a revolutionary and innovative business model and is a result of several online platforms. Despite its set of cons, it is blessed with various advantages.