Employee retention strategies.
In a world where remote or hybrid working has become the new normal, workers now have more flexibility in choosing where to work, and employers face added pressure to avoid turnover and improve employee retention.
The good news? Actions can be taken to keep your talents longer. According to a recent report from the Work Institute, more than three quarters (77%) of the reasons employees leave the company are preventable. That's why investing in employee retention strategies is time well spent.
Here's what employee retention means, why it's important, and 10 strategies you can use to increase employee retention in your organization.
What does employee retention mean?
Employee retention is the ability to keep employees in your company. There are myriad factors that influence employees' desire to continue working for you; many of these are directly linked to the general experiences of employees.
Some of these factors are:
Salary and benefits
Flexible work environment (e.g. work from home)
Corporate culture
Job satisfaction
Feeling included and having a sense of belonging at work
Measuring employee retention
Companies calculate employee retention to measure and monitor their retention rates over time. Measuring employee retention provides insight into whether improvements need to be made to your employee experience management and helps determine if your improvements have been successful.
To measure your company's employee retention rate (the percentage of employees who stay), you can use this simple formula:
(number of employees at the end of a period)/(number of employees at the beginning of a period) x 100 = employee retention rate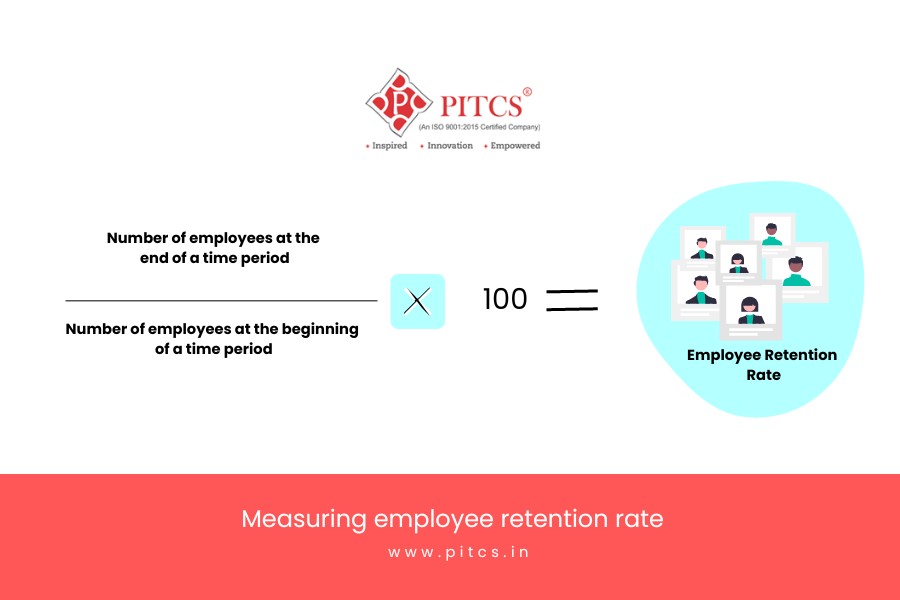 In addition to this calculation, you can also calculate the turnover rate (the percentage of employees who leave the company):
(Number of employees who left in a given period/average number of employees in that period) x 100 = turnover rate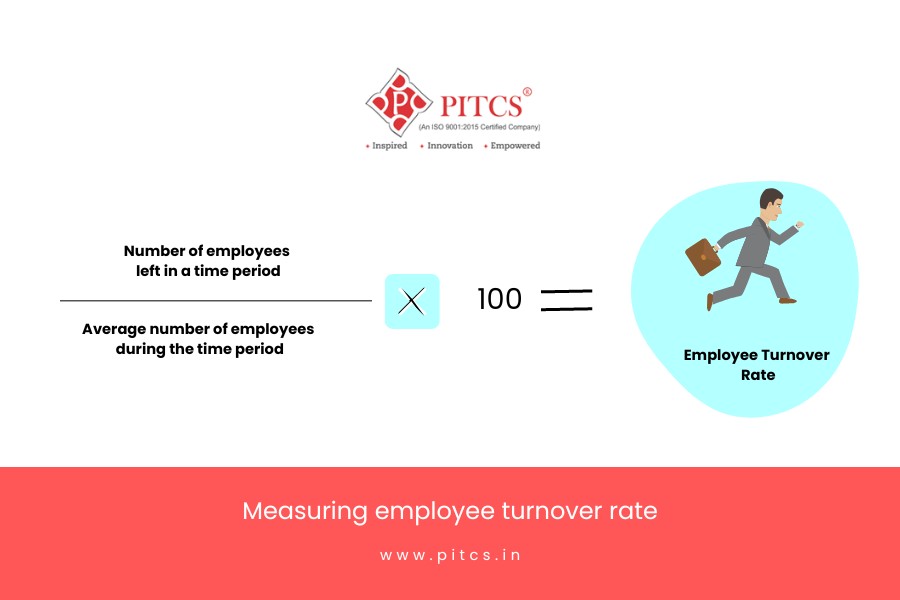 For example: if you had 10 employees at the beginning of a period and 8 employees at the end of a period, the calculations would be as follows:
Employee retention rate: (8/10) x 100 = 80%
Employee turnover rate: (2/10) x 100 = 20%
You can also measure employee turnover by surveying your employees about their intention to stay. According to Qualtrics, retention intention is one of the top five key performance indicators (KPIs) for employee experience. By measuring your employees' retention intent, you can better understand how long your employees plan to work for your company and proactively learn why.
Why is employee retention important?
When employees feel that their workplace experience isn't meeting their expectations, they are likely to become less committed to their work – and eventually to the job market for opportunities that better meet their professional needs.
If one or two employees leave, that's natural turnover. But when many are dissatisfied and leave, business performance can be jeopardized.
Here are some science-based reasons why companies should make efforts to retain top talent.
1. Happy employees lead to better business results
Research from the Society of Human Resource Management (SHRM) has found that people who are committed to their jobs are more likely to help the organization achieve its goals. A Gallup study showed that high team engagement contributes to 21% higher profitability.
2. Engaged employees are more present and productive at work
The same Gallup study found that teams that rank in the top 20% experienced 41% less absenteeism and 59% less turnover.
3. Losing employees is costly
Replacing a lost employee costs companies between 25 and 200% of that employee's salary . In other words, if you need to replace an executive who makes $100,000 a year, your company will spend between $25,000 and $200,000 just to fill the position.
10 strategies to increase employee retention
Strategies that help your company to retain employees over the long term are not always obvious at first glance.
Below we have compiled 10 employee retention strategies to help you keep your top talent happy, engaged and productive.
1. Focus on the onboarding experience
Have you ever received a call or email from HR reminding you that your new full-time employee starts today – and you haven't started the onboarding documents or technology setup yet? Hopefully not, but this happens to new hires (and especially new field staff) every day.
Onboarding can make the difference between an employee wanting to continue working at your company or not. Already on the first day, the employees take in your corporate culture and assess whether they will be satisfied in the long term.
Don't miss this critical point in an employee's life cycle . Make sure every new hire is equipped for success.
Find out benefits of hiring an HR consultants.
2. Rewarding and recognizing employees
In a survey conducted by SHRM, 68% of recruiters said recognition is important for employee retention.
Rewards and recognition programs don't have to be complex to be effective. But they should:
Refer to the employee to be honored
Take place near the time of the action to be identified
Take place with reasonable frequency (not too little and not too often, as both limit the desired effect)
Be visible to be effective e.g. B. by saying thank you in person, via email, or in a Slack channel (hint: whatever the employee prefers!)
3. Offering professional development and growth opportunities
According to LinkedIn, nearly all workers (94%) say they would stay with their company longer if it invested in their professional development and growth.
Take advantage of this proven (and highly desired) strategy by considering:
Creating a mentoring program for employees to facilitate networking opportunities and build meaningful relationships within your organization.
Offering online courses that employees can access to enhance existing skills or develop new ones.
Offering a Tuition Assistance (TAP) program to help employees pay for college courses.
4. Ask your employees for feedback
Organizations that have an employee experience management program in place report 16 percentage points higher engagement than those without. And the more often you ask for feedback, the better. Asking your employees for feedback once a week can increase your company's engagement by up to 10%.
The conclusion? Asking your employees for feedback makes them feel happy and valued.
TIP: Be sure to include a handful of these 15 employee satisfaction questions when designing an effective employee survey.
5. Take action based on employee feedback
The above strategy comes with one caveat: you must respond to employee feedback to make them feel heard. Why? Because listening without taking action can lead to worse engagement than not having an experience management program at all.
6. Offer flexible working arrangements
When the pandemic hit, many companies transitioned to working completely remotely. Since then, some companies have retained their teleworking policies, while others have adopted hybrid working models (and still others have returned fully to the office).
So what is the best model for retaining employees? Future Forum research shows that flexibility is one of the most important factors influencing the attractiveness and retention of employees in a company. In fact, almost all knowledge workers (93%) would like flexible working hours and 76% would like flexible work locations.
The bottom line: people want flexibility, and if a company doesn't offer it, they will leave.
7. Promoting employee well-being and preventing burnout
Burnout and stress are among the top reasons employees say they will be looking for a new job in the next year.
And while some companies address burnout with short-term solutions (e.g. wellness apps or a surprise day off), a culture change and a focus on employee well-being will make the difference.
Some examples include helping employees balance their workloads, encouraging them to take time off (and actually logging off), and empowering leaders to make business decisions that promote team member well-being.
8. Equipping employees with the necessary tools and technologies
In a study of 200 CIOs, 90% of senior technology leaders believed that IT experience is important when it comes to retaining talent, with 53% of respondents believing that IT -Experience is extremely important.
Modern technology not only supports productivity, but also helps employees, especially high performers, feel engaged and valued.
Not sure what your employees need in terms of workplace technology? Just ask her.
TIP: Send out a Net Promoter Score (eNPS) survey with additional questions to check employee sentiment and ask them if they have everything they need to feel comfortable and productive in their workplace.
9. Fostering a culture of inclusion and belonging
Creating a sense of inclusivity within teams and across the organization is now more important than ever (especially with remote working models).
Qualtrics research shows that only 20% of employees who don't feel included are engaged, versus 91% of those who feel included – a difference of three and a half times. The study also shows that a sense of belonging not only meets employees' basic needs, but also inspires their work and leads to better business outcomes.
10. Conducting Exit Interviews
It is inevitable that employees will leave your company, but it can also be a learning opportunity. Termination interviews are a great opportunity to find out why employees are leaving the company, and they shed light on which of your current retention strategies are working – and which need improvement.