Ethical compliance within an organization is practiced for the best outcomes.
Work ethics also fosters the relationships between employees and the employer. Let us explore what are work ethics and its importance with examples.
Creating a positive and productive environment of work is generally referred to as work ethics. It also involves treating employees or workers fairly, which in turn helps you achieve better results.
They can concentrate on the work better that leads to better business outcomes. If you want to see your company grow, you must put in efforts to enhance the culture at the workplace.
On the contrary, if you fail to provide a healthy culture at the office, and if it becomes the place of office politics and management inefficiency, you will fail to retain the real asset of your company – the employees.
It can make employees demotivated and depressed, thus dampening productivity to a great extent.
They will look for other job opportunities because they are not content with the office culture.
They do not feel valued and respected. It is true in case of professionals too – after being hired, every employee must try his or her best to stay true to its employer.
They should provide the best quality of work and must abide by the rules.
What are work Ethics?
Here are some Professional Ethics examples:
Creating a healthy atmosphere that would keep employees contended.
Providing the right remuneration to employees after going through their skill sets and qualifications.
Offering the right appraisal after assessing their performances. You need to make sure that the employees who are better at their performances are compensated for the same.
When you are comparing and assessing performances, make sure it is devoid of any external manipulation.
During this assessment, you should also tell the employee about the rooms for improvement and the corrections.
A transparent appraisal system will instill their confidence in the company.
Talk to them about long-term opportunities as well so that they think about staying in the company for a significant amount of time.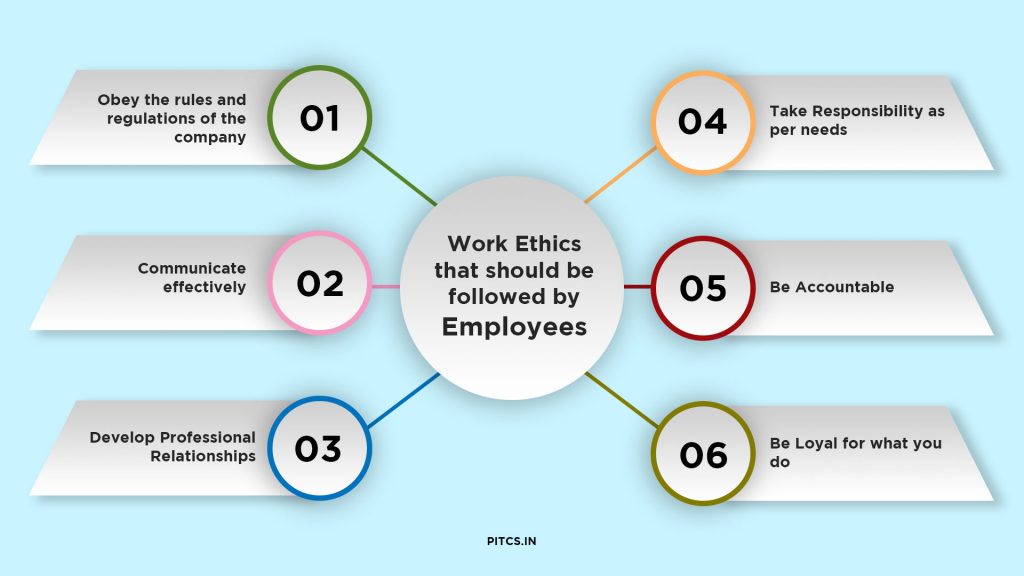 To make it easier for you to understand, here are some examples of good and bad work ethics.

Here are some unethical behaviors by employers:
Asking for sexual favors in return for a job or promotion
Late-night out
Unpaid overtime
Verbal or Physical Harassment
Nepotism
Unfriendly Work Environment
This is the reason why companies should have predefined ethical practices, which everyone needs to abide by – no matter what.
Some work ethics that should be followed by employees:
Obey the rules and regulations of the company
Communicate effectively
Develop Professional Relationships
Take Responsibility and be accountable
Loyalty
On the other hand, these are some unethical practices that should be best avoided by workers:
Lies
Taking Credit for Others Hard Work
Verbal or physical abuse
Non-Office Related Work
Stealing office supplies
Extended breaks or untimely leaves
Sexual Harassment
Advantages of work ethics
Asset protection
The first reason behind work ethics and valuesis asset protection. It will help you achieve the same if your employees abide by workplace ethics.
For instance, they should avoid making long personal calls using the office's phones.
They should respect the company's assets. Imbibe strong integrity and ethics in them. Arrange meetings once in a while to address the same.
They should not misuse or steal company supplies or equipment.
Productivity and teamwork
It is needless to say that solid work ethics result in productivity and teamwork. It also allows the alignment of the company's values with that of the employees.
They show better motivation, encouragement, and productivity amongst your workers.
Helps during challenging times
Work ethics also helping in maintaining a moral course in challenging times – in other words, they keep the employees going.
A business goes through various turbulent times in its course of running – it could be for-profit or non-profit.
Practicing this from the very beginning not only guides the course of action of employees, but also the leaders.
Public image
Maintaining a solid image in the competitive market is quite difficult. It is the reason why you should be more concerned about your business place ethics. As a business, you should value people and the environment over profit. This defines the importance of workplace ethics.
One of the most common Work Ethic examples is controlled waste management, etc. This shows your commitment towards the environment and people around.
Apart from all these, solid work ethics also help in decision making, providing accountability, etc.
Now that you know about the advantages, let us talk about the disadvantages of the same.
Disadvantages of ethics in the workplace
On the contrary, there are several disadvantages too, which you would be surprised to know.
Overall Management Strategy
It requires 100% support of the management in order to be effective. There would definitely be a clash of ethics if each member of the management inputs his or her personal vision. It can create confusion and lead to utter mismanagement.
Lack of Profit Maximisation
It could also lead to low profits. For instance, you may have to spend more in order to reduce waste, etc.
There are so many examples we can provide over here that restrict the company's profit margins. While work ethics should always be encouraged, we cannot just overlook its downsides.
Also, implementing ethics and programs can be costly as well as time-consuming.
Another huge example that we need to give in this regard is that restraining from having factories in developing countries, which could be cheap.
Why?
Because the labor in these countries is cheap – you can even engage child labor. However, this is against ethical practices.
Expensive procedure
Improvements in office spaces, providing appraisals, etc. are expensive for the company. It is yet again a disadvantage.
Conclusion
To wrap it up, an ethical employee-employer relationship is known as work ethics. It works both ways.
While entrepreneurs should be impartial and must be supportive to their employees; employees should also provide their best for the growth of the company.
They must display traits that would benefit and help the company reach its goals. A strong work ethic always pays back.